Welcome Vyroz, and thank you for your edit to Makiko Ohmoto!
We are glad to have you on the team! This is a wiki dedicated to real articles on subjects related to Kirby and the series bearing his namesake.
If you wish to help, Portal: Help Out is just the place for you. You should also have a look at the Editor's Manual - our customized guide to a smooth experience at Kirby Wiki as well as style and content guidelines for articles and other pages.
If there's anything you're unsure of, feel free to ask your fellow editors or a site administrator.

Enjoy your stay! Paul2 (talk) 18:47, March 5, 2020 (UTC)
This image
I'm curious, where did you find this image? 
Magma LGP (talk) 23:53, May 9, 2020 (UTC)
Ah, It's taken directly from Dark Meta Knight's Guest Star mode background! I just tilted it. Vyroz (talk) 00:14, May 10, 2020 (UTC)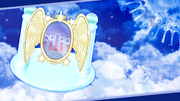 Oh, I see, thanks Magma LGP (talk) 00:49, May 10, 2020 (UTC)
KDL3 art
Wherever did that excellent KDL3 artwork? Could be a valuable resource for us. NerdyBoutKirby

Run... Over... 16:57, May 21, 2020 (UTC)
While browsing Twitter, I came across the user "Video Game Art" and found all the KDL3 artwork thanks to their Tumblr. They were all surprisingly high quality and they had many other artwork from other Kirby games, such as KDL2 and Kirby's Dream Course. Vyroz (talk) 17:13, May 21, 2020 (UTC)
Galacta Knight SKC Render
Hey, Vyroz! I saw that you managed to crop Galacta Knight's new render from that SKC showcase video on the Twitter! I actually do have a screenshot of the full render, though. I know this may be a bit of a pain, but...do you think you could crop it as well? It has a translucent play button covering up his left wing, just to let you know. I understand if you can't though, it's all good! Here it is, just in case. Cuckoo Kirby fan (talk) 05:34, September 16, 2020 (UTC)Cuckoo Kirby fan
Ah, I think I might be able to do it, so it's no problem! By the way, do you know the source? Just in case I can do something about the button :b

Vyroz

 

Duplication!

05:53, September 16, 2020 (UTC)
That's good to hear! The full render is from the thumbnail of the video showing concept art and stuff of the likes of his appearance in SKC in the SKC Switch News Channel. I just tilted it a bit. It doesn't appear in the video itself for some reason, so I guess you might be stuck with that? Cuckoo Kirby fan (talk) 05:59, September 16, 2020 (UTC)Cuckoo Kirby fan
Oh, I see, then I really am stuck with that image. I'm already making progress on removing the background, though! I'll see if there's a way to make the button not appear in the picture at all without modifying the artwork.

Vyroz

 

Duplication!

06:16, September 16, 2020 (UTC)
I made two crops. The first one still has the play button, which looks odd, but contains the full wing. The second one has the entire button removed, but the wing is cut-off as a result. I've also tried brightening up the button to match the coloration of the rest of the wing but it honestly didn't look good. Maybe I'll have to try some more ideas.

Vyroz

 

Duplication!

06:50, September 16, 2020 (UTC)
Those look pretty good! If it helps, might I suggest something with a content aware fill tool? Maybe Photoshop or something. I mean, I don't know if it'll work the way you want it to, but it may be worth a shot. But, if you can't figure anything out, then I think we'll be fine with these (it'll just look a bit odd). Cuckoo Kirby fan (talk) 23:20, September 17, 2020 (UTC)Cuckoo Kirby fan
Community content is available under
CC-BY-SA
unless otherwise noted.