Welcome Vyroz, and thank you for your edit to Makiko Ohmoto!
We are glad to have you on the team! This is a wiki dedicated to real articles on subjects related to Kirby and the series bearing his namesake.
If you wish to help, Portal: Help Out is just the place for you. You should also have a look at the Editor's Manual - our customized guide to a smooth experience at Kirby Wiki as well as style and content guidelines for articles and other pages.
If there's anything you're unsure of, feel free to ask your fellow editors or a site administrator.

This image
I'm curious, where did you find this image? 
Magma LGP
(
talk
) 23:53, May 9, 2020 (UTC)
Ah, It's taken directly from Dark Meta Knight's Guest Star mode background! I just tilted it. Vyroz (talk) 00:14, May 10, 2020 (UTC)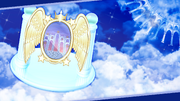 Oh, I see, thanks Magma LGP (talk) 00:49, May 10, 2020 (UTC)
KDL3 art
Wherever did that excellent KDL3 artwork? Could be a valuable resource for us. NerdyBoutKirby

Run... Over... 16:57, May 21, 2020 (UTC)
While browsing Twitter, I came across the user "Video Game Art" and found all the KDL3 artwork thanks to their Tumblr. They were all surprisingly high quality and they had many other artwork from other Kirby games, such as KDL2 and Kirby's Dream Course. Vyroz (talk) 17:13, May 21, 2020 (UTC)
Community content is available under
CC-BY-SA
unless otherwise noted.