Welcome!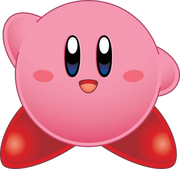 Welcome to the Kirby Wiki! It's a Wikia wiki dedicated to writing real articles on the HAL Laboratory/Nintendo character, Kirby. We're glad to have you as a member. If you have any questions, just ask an experienced member.
The following pages contain guidance and information about reading, authoring, and participating in the community. If you are new to wikis, be sure to visit ask someone for an outline of some of the main parts of the site and a link to pages that tell you how to edit.
Do keep an eye on the "recent changes" page, where all edits and their authors (anonymous or signed-in) are listed. Bookmark it, maybe.
Discussion of any aspect of the site, and enquiries, can be made at Talk:Main_Page or on the "discussion" page associated with each article. It helps if you sign and date your contributions on a talk page/forum/whatever other discussion place, so that readers know who to talk to, and whether your message is probably still of current interest. If you write on a user's "talk" page, that user will get an alerting message to visit it.
Need help on editing? Click here! Want to test out your editing? Click here!
Categories
You are welcome to browse through the following categories:
External Resources
Also, if you need help, we recommend that you contact an administrator.
We hope this information is helpful, and that you'll have a good experience contributing to our knowledge-base and our community.
You make several edits, which is good. However, make sure capitalization, grammar, and punctuation is correct when you edit.
Community content is available under
CC-BY-SA
unless otherwise noted.