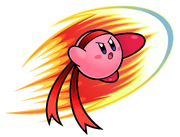 Hey people! I like making kirby comics, playing kirby, and being on kirby wiki! I am a fan of kirby,pokemon,mario,zelda and SSBB!
Abilties I made up
Bug catcher Kirby. Appearance:Kirby holds a bug net. Attacks:Net swing. Catches enemies and can toss them out of the net.
Butterfly Kirby. Appearance:Kirby has butterfly wings and antenae.He can also fly. Attacks:Butterfly Powder. Kirby flies around sprinkling golden powder that damages enemies.
Oil Kirby
Images
What is your favorite copy ability?
What is your favorite haunted canada book?


Community content is available under
CC-BY-SA
unless otherwise noted.