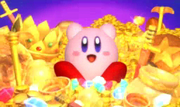 Treasures are items that appear in the Kirby series.
In Kirby Super Star and Kirby Super Star Ultra, treasures are only found in the sub-game The Great Cave Offensive. The total worth of all the treasures combined in both games is 9,999,990G.
In Kirby & The Amazing Mirror, Treasure Chests are hidden throughout the Mirror World. These treasures can help Kirby navigate throughout the world or can change his appearance or health bar.
In Kirby: Squeak Squad, all treasures from Kirby & The Amazing Mirror return, plus some added ones. The treasures that Kirby acquires can sometimes be taken by the Squeaks during the levels, though. In addition to changing Kirby's appearance, some treasures unlock new levels and are even needed to proceed through the game.
| Image | Name | Worth | Location |
| --- | --- | --- | --- |
| | Gold Medal | 10,000G | Sub-Tree Area |
| | Gold Coin | 1,000G | Sub-Tree Area |
| | Whip | 6,800G | Sub-Tree Area |
| | Crystal Ball | 200,000G | Sub-Tree Area |
| | Lucky Cat | 500G | Sub-Tree Area |
| | Seiryu Sword | 142,000G | Sub-Tree Area |
| | Screw Ball | 80,000G | Sub-Tree Area |
| | Echigo Candy | 8,000G | Sub-Tree Area |
| | Zebra Mask | 278,000G | Sub-Tree Area |
| | Star Stone | 82,100G | Sub-Tree Area |
| | Beast's Fang | 7,300G | Sub-Tree Area |
| | Bandanna | 1,990G | Sub-Tree Area |
| | Springtime | 250,000G | Sub-Tree Area |
| | Dime | 10G | Crystal Area |
| | Glass Slippers | 120,000G | Crystal Area |
| | Goblet | 800G | Crystal Area |
| | Saucepan | 10G | Crystal Area |
| | Brass Knuckle | 20,000G | Crystal Area |
| | Amber Rose | 22,100G | Crystal Area |
| | Fish Fossil | 8,250G | Crystal Area |
| | Beast Fossil | 24,220G | Crystal Area |
| | Nunchuks | 55,480G | Crystal Area |
| | Bucket | 200G | Crystal Area |
| | Summertime | 250,000G | Crystal Area |
| | 100 dollar coin | 10,000G | Crystal Area |
| | Ancient Gem | 68,000G | Crystal Area |
| | Falcon Helmet | 41,000G | Crystal Area |
| | Dud | 80G | Crystal Area |
| | Truth Mirror | 500,000G | Crystal Area |
| | Star Tiara | 408,200G | Old Tower |
| | Turtle Shell | 800G | Old Tower |
| | Sword | 325,000G | Old Tower |
| | Warrior Shield | 50,000G | Old Tower |
| | Unicorn's Horn | 80,300G | Old Tower |
| | Autumntime | 250,000G | Old Tower |
| | Rice Bowl | 50G | Old Tower |
| | Tut's Mask | 160,000G | Old Tower |
| | Mr. Saturn | 120,000G | Old Tower |
| | Armor | 212,000G | Old Tower |
| | Treasure Box | 100,000G | Old Tower |
| | Mannequin | 3,000G | Old Tower |
| | Gold Crown | 528,000G | Old Tower |
| | King's Cape | 508,000G | Old Tower |
| | Model Ship | 800,000G | Old Tower |
| | Sun Ring | 800,000G | Old Tower |
| | Wintertime | 250,000G | Garden Area |
| | Katana | 990,000G | Garden Area |
| | Charm | 8,000G | Garden Area |
| | Xmas Tree | 42,000G | Garden Area |
| | Kong's Barrel | 1,500G | Garden Area |
| | Ramia's Scale | 12,800G | Garden Area |
| | Shiny Bamboo | 600,000G | Garden Area |
| | Tire | 1,100G | Garden Area |
| | Spirit Charm | 78,500G | Garden Area |
| | Pegasus Wing | 42,800G | Garden Area |
| | Raccoon Doll | 8,150G | Garden Area |
| | Shell Whistle | 82,000G | Garden Area |
| | Orihalcon | 512,000G | Garden Area |
| | Platinum Ring | 40,000G | Garden Area |
| | Triforce | 800,000G | Garden Area |
Other
Hidden Door Key
Boss Battle badge
Graphic Piece
| Image | Name | Worth | Location |
| --- | --- | --- | --- |
| | Gold Medal | 10,000G | Sub-Tree Area |
| | Gold Coin | 1,000G | Sub-Tree Area |
| | Whip | 6,800G | Sub-Tree Area |
| | Crystal Ball | 200,000G | Sub-Tree Area |
| | Lucky Cat | 500G | Sub-Tree Area |
| | Seiryu Sword | 142,000G | Sub-Tree Area |
| | Screw Attack | 80,000G | Sub-Tree Area |
| | Echigo Candy | 8,000G | Sub-Tree Area |
| | Phanto Mask | 278,000G | Sub-Tree Area |
| | Star Stone | 82,100G | Sub-Tree Area |
| | Beast's Fang | 7,300G | Sub-Tree Area |
| | Bandanna | 1,990G | Sub-Tree Area |
| | Seasons Heart | 250,000G | Sub-Tree Area |
| | Dime | 10G | Crystal Area |
| | Glass Slipper | 120,000G | Crystal Area |
| | Goblet | 800G | Crystal Area |
| | Saucepan | 10G | Crystal Area |
| | Brass Knuckle | 20,000G | Crystal Area |
| | Amber Rose | 22,100G | Crystal Area |
| | Fish Fossil | 8,250G | Crystal Area |
| | Beast Fossil | 24,220G | Crystal Area |
| | Machine Parts | 121,300G | Crystal Area |
| | Bucket | 200G | Crystal Area |
| | Power Paintbrush | 222,000G | Crystal Area |
| | 100-Dollar Coin | 10,000G | Crystal Area |
| | Ancient Gem | 68,000G | Crystal Area |
| | Falcon Helmet | 41,000G | Crystal Area |
| | Cell Phone | 42,010G | Crystal Area |
| | Truth Mirror | 500,000G | Crystal Area |
| | Star Tiara | 408,200G | Old Tower |
| | Koopa Shell | 800G | Old Tower |
| | Falchion | 325,000G | Old Tower |
| | Warrior Shield | 50,000G | Old Tower |
| | Unicorn's Horn | 80,300G | Old Tower |
| | Three-Star Cane | 222,000G | Old Tower |
| | Broken Bowl | 50G | Old Tower |
| | Tut's Mask | 160,000G | Old Tower |
| | Mr. Saturn | 120,000G | Old Tower |
| | Armor | 212,000G | Old Tower |
| | Treasure Box | 100,000G | Old Tower |
| | Mannequin | 3,000G | Old Tower |
| | Gold Crown | 528,000G | Old Tower |
| | King's Cape | 508,000G | Old Tower |
| | Model Ship | 800,000G | Old Tower |
| | Sun Ring | 800,000G | Old Tower |
| | Gold Watering Can | 200,000G | Garden Area |
| | Katana | 990,000G | Garden Area |
| | Charm | 8,000G | Garden Area |
| | Xmas Tree | 42,000G | Garden Area |
| | Kong's Barrel | 1,500G | Garden Area |
| | Ramia's Scale | 12,800G | Garden Area |
| | Shiny Bamboo | 600,000G | Garden Area |
| | Tire | 1,100G | Garden Area |
| | Spirit Charm | 78,500G | Garden Area |
| | Pegasus Wing | 42,800G | Garden Area |
| | Raccoon Doll | 8,150G | Garden Area |
| | Shell Whistle | 82,000G | Garden Area |
| | Orichalcum | 512,000G | Garden Area |
| | Platinum Ring | 40,000G | Garden Area |
| | Triforce | 800,000G | Garden Area |
Artwork