Fire Emblem Warriors: Three Hopes - The Loop
Play Sound
Radish Ruins in the eighth level in Kirby & The Amazing Mirror following Peppermint Palace and preceding Candy Constellation.
General Information
Radish Ruins is a place located in the Mirror World. It is a vast series of ruins that Kirby explores at dusk. The ruins have many booby traps, ranging from falling rocks to spiked floors. Parasol is useful to cross the spiked floors, while the Wheel ability comes in useful to speed through the ruins. The majority of the level takes place inside the ruins and occasionally, namely during the boss battle, the wilds and canyons enclosing it.
The boss is Dark Meta Knight, who is initially disguised as the original Meta Knight and goes by the alias of ? ? ?.
Music
Theme - Radish Ruins
Radish Ruins is the eighth area in the Mirror World of Kirby & The Amazing Mirror. It is a hazardous environment - a large area of ruined medieval-style stone buildings full of traps surrounded by an equally unforgiving overgrown forest.
Trivia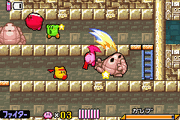 Though it is impossible to confirm exactly which Mesoamerican civilization inspired Radish Ruins, it appears to draw heavy influence from the Maya culture. The level features angular architecture and wall carvings, two staples of Maya construction. Some backgrounds depict square stones protruding from the walls—these seem to be based on the Maya glyphs. One circular carving in the foreground of one room resembles the Tzolk'in. Additionally, the surrounding canyon environment resembles the Yucatán area more closely than the mountainous region of Peru, distancing it from the Andean civilizations.
This level is similar to Orange Ocean from Kirby's Adventure. Both levels are only visited at sunset and have Meta Knight (or in this case a Meta Knight-like foe) as a boss.
The Radish Ruins theme is used in Kirby: Squeak Squad, and a rearrangement is featured in the Dig and Dash stage in Kirby and the Rainbow Curse.
Backgrounds
Gallery