Arcane: League of Legends - The Loop
Play Sound
Old Tower is the third area in The Great Cave Offensive. It is a large, looming tower located beneath Dream Land.
The area is a huge maze with many corridors and traps. There are many treasures here. However, exploring the area is optional, as the player may skip the entire level, since the path to Garden Area is at the left of the exterior of the tower.
Sun Ring
Model Ship
Gold Crown
King's Cape
Star Tiara
Sword/Falchion
Warrior Shield
Unicorn's Horn
Autumntime/Three-Star Cane
Rice Bowl/Broken Bowl
Tut's Mask
Armor
Treasure Box
Mannequin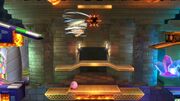 Old Tower appears in The Great Cave Offensive stage in Super Smash Bros. for Wii U and Super Smash Bros. Ultimate. It takes up the center of the stage.
Trivia
A few of the treasures refer to the Medieval Age, such as the shield, armor and crown.
It is possible to stand on the various roofs of the Old Tower in Kirby Super Star. This is changed in the remake, instead being purely part of the background.
In Meta Knightmare Ultra, the Old Tower's doors are closed so Meta Knight can't go in it. This was done probably because the Old Tower is optional and the door to the Garden is to the left.
Gallery