hu
Archive of all historically-featured articles. Kirby Wiki's featured articles are the more interesting and higher-quality articles picked by the more active contributors or sysops and put on the main page. Historically, the nomination system is largely bypassed or ignored altogether, so the articles mostly do not correspond to the nominations on the nomination page. (Back to main page)
Zero Two (featured April 2011)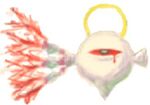 0² is the final boss of Kirby 64: The Crystal Shards and the undead form of Zero. It resides deep within a gargantuan sphere of amassed Dark Matter entitled Dark Star. Zero, now risen from the dead and still controlling Dark Matter, becomes a being that resembles a fallen angel. It resumes its designs of conquest by invading the surrounding planets of Pop Star. It reasons that if it cannot feel happiness, then neither should anyone else. Thus, its mission is to spread its darkness and misery throughout the cosmos. Read more...
Whispy Woods (featured April 2010)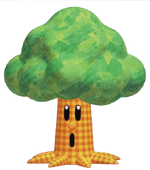 Whispy Woods (also known as Whispy) is a recurring boss in the Kirby series. He first appeared in Kirby's Dream Land and is a giant, immobile apple tree with a face and a branch-like nose. His attacks are to make apples fall on Kirby, blow air puffs, and occasionally shoot his roots at Kirby in some games. The best way to counterattack without a copy ability is to inhale apples and shoot them back at him. Read more...
Paint Roller (featured Feb 2010)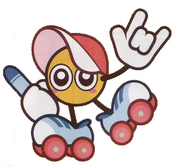 Paint Roller is a boss character who was first fought in Kirby's Adventure and its remake Kirby: Nightmare in Dream Land, and later appeared in a few other games. He is an artist on the go, and always wears a pair of roller skates to travel at high speeds. His body in an orange sphere with large round eyes and wears a hat atop his body. He has a giant paintbrush (sometimes misconstrued as a marker or pencil) with him in all appearances. His name is based on the fact that he paints and wears roller skates. In most battles he makes use of this to bring foes to life to attack Kirby. Some of his drawing even give Kirby a Copy Ability when eaten. Read more...
Meta Knight (featured Dec 2009)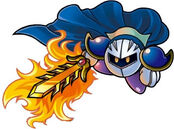 Meta Knight (or Sir Meta Knight) is a major character in the Kirby series appearing in most of the games, manga, as well as the anime. What makes Meta Knight both mysterious and fascinating is his likeness to Kirby himself. His mysterious nature and popularity has led to him playing more of a playable character and less of a "friend or foe" character in many of the newer games. His true relation to Kirby has yet to be revealed. Read more...
Kirby & the Amazing Mirror (featured March 2009)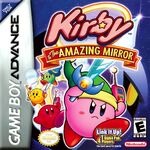 Kirby & the Amazing Mirror, known in Japan as Hoshi no Kirby: Kagami no Daimeikyū (星のカービィ 鏡の大迷宮, Hoshi no Kābī Kagami no Daimeikyū lit. "Kirby of the Stars: The Great Labyrinth of the Mirror"), is a Kirby video game released in 2004 for the Game Boy Advance. It is the only Kirby title where Kirby's nemesis, King Dedede, does not make an appearance, and is Kirby's last game for the system. This game has been re-released in Europe for Club Nintendo members only. The story begins with a Mirror World that exists in the skies of Dream Land. It is a world where any wish reflected in the mirror will come true. However, one day it only copies evil minds, and rapidly changes into a world of evil. Meta Knight notices this, and flies up to save the Mirror World. Meanwhile, Kirby is taking a walk, when Dark Meta Knight appears. But before Kirby can react, Dark Meta Knight slices Kirby in four and Kirby becomes four different colored "Kirbys". Kirby travels alone, but if his cell phone is working, he can call his friends and they will help him. They chase after the Dark Meta Knight and enter the Mirror World. (Read more...
Dream Land (featured Feb 2009)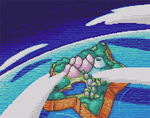 Dream Land (known as Pupupuland in Japan, sometimes called DreamLand) is a large country on the planet Pop Star. Dream Land is portrayed as a peaceful little place with a large range of scenery and landscapes. The ruler of Dream Land is King Dedede; a wealthy tyrant who is shown to do absolutely nothing for the best of his subjects or Dream Land itself. The king often causes trouble here, intentional or not, and it's often up to Kirby to fix it and save Dream Land. Almost all of Kirby's adventures take place here at one point or another. Dream Land features a wide array of both landscapes and inhabitants. Dream Land's demographics indicate that the Waddle Dee species make up the majority of the area's life. Besides the Waddle Dees, many other species of live and thrive in Dream Land as well. Not many humans are shown to live here however. The only known human inhabitants are Ado and Adeleine. The majority of the inhabitants and citizens are peaceful and love to dream, however some of it's inhabitants can be rather dangerous and violent. (Read more...
Kracko (featured Jan 2009)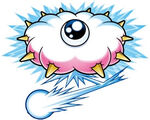 Kracko is a recurring boss character from the Kirby series. It first appeared as a boss in Kirby's Dream Land and has appeared in almost every game since then. Kracko is most often fought in its adult form, but is sometimes fought in its premature form. Kracko appears to have legions of one eyed monsters supporting it, such as Waddle Doo and Flamer, both of which it summons to its side in various fights. Kracko is often fought high up the the clouds. Kracko is a puffy cloud-like monster. It has a large single eye located in the center of its soft, cloudy body. the top of its cloud is a light blue, and its bottom is a light pink. The midsection of Kracko's body is white. Surrounding the cloud are twelve golden spikes. This design remains constant in its anime appearance. Kracko Jr. is Kracko's premature form. Kracko rarely fights in this form, and is mainly shown whenever Kracko enters the arena, only to be replaced by its adult form shortly after. In this form it has the same blue eye as its regular form, except it doesn't have the cloud surrounding it. Instead, four round blobs orbit around its eye. (Read more...
Adeleine (featured Dec 2008)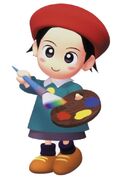 Adeleine (Japanese: アドレーヌ) is one of Kirby's friends in Kirby 64: The Crystal Shards. Adeleine is an aspiring young, human artist with ability to make pictures she paints come to life. Noticably, Adeleine is the only human in the Kirby series, as she hails from Earth and has traveled to Pop Star in order to study art further. Adeleine makes her first and so far only appearance arguably in Kirby 64: The Crystal Shards. She first appears in the second section of the first world, Pop Star. She is simply painting a picture when a Crystal Shard falls next to her. She turns and picks it up when Dark Matter materializes on her easel and possesses her. Kirby, Ribbon and Waddle Dee then arrive to find her possessed and are forced to battle her. Adeleine summons various monsters from past Kirby games, much like her Kirby's Dreamland 3 counterpart, Ado. After Kirby and the gang defeat Adeleine, she agrees to join their team and the three set out to find the rest of the Crystal Shards. Throughout various levels of the game, Adeleine will appear and paint various items for Kirby to use such as Maxim Tomatoes and 1up. She may also paint pictures to help Kirby solve puzzles so that he can obtain a shard. (Read more...
Kirby Super Star Ultra (featured Nov 2008)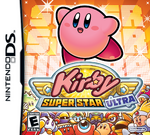 Kirby Super Star Ultra (星のカービィ ウルトラスーパーデラックス, Hoshi no Kābī Urutora Sūpā Derakkusu, lit. "Kirby of the Stars Ultra Super Deluxe") is a Nintendo DS remake of the Super NES game Kirby Super Star. It includes all games found in the original, but adds several new ones. In addition, the game features 3D FMV cutscenes for all of the levels, improves the visuals from Super Star, and adds to/modifies the gameplay in some ways. Kirby Super Star Ultra features several new games. The first new levels are the sub-games, which include Snack Tracks, Kirby Card Swipe, and Kirby on the Draw. All of these games feature four Kirbys, and the objective in them is to get the most points of the four. In Snack Tracks, Kirby is laying in front of a conveyor belt which is carrying food towards them, attempting to eat the most of the four while also touching non-food objects to keep them out of Kirby's path. Kirby Card Swipe requires the player to view a certain number of cards with images on them, wait for an image to show on the top screen, and then touch whatever card matches the image shown. Kirby on the Draw requires Kirby to shoot at images that appear in a shooting gallery. Like in many shooting galleries, most images give the player extra point, while some give negative points. (Read more...
Kirby: Right Back at Ya! (featured October 2008)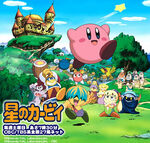 Kirby: Right Back At Ya!, known in Japan as Kirby of the Stars (星のカービィ, Hoshi no Kābī), is an anime series based on the Kirby franchise. The series was produced by Warpstar Inc., a company formed between a joint investment between Nintendo and HAL Laboratory, Inc. In Japan, the series has aired on Chubu-Nippon Broadcasting Co., Ltd. since October 6, 2001. It is currently licensed in North America by 4Kids Entertainment under the title Kirby: Right Back at Ya! and was seen on 4Kids TV (formerly known as FoxBox). The North American Version of the Anime was distributed by 20th Century Fox, Nelvana Enterprises, and HAL Laboratory, Inc. It ended in Japan in 2003 with 100 episodes, and the series finished airing in 2006 in the US. The series began rebroadcasting in Japan as of June 28, 2007 on the Tokyo Metropolitan Television station. As of June 21, 2008, Kirby began rebroadcasting in the US, Saturday mornings at 11am EST on 4Kids TV. The series can also be seen on 4Kids' Video On Demand service and on www.4Kids.TV. (Read more...
Dyna Blade (featured October 2008)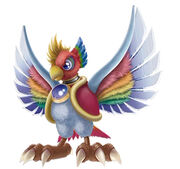 Dyna Blade is a recurring boss and sometimes ally in the Kirby series. She appears with her own sub game in Kirby Super Star, and makes a minor appearance Kirby Air Ride. She even stared in an early episode of the Kirby: Right Back at Ya! anime. Dyna Blade's first appearance depicts her as an enormous, armored bird with white feathers on her chest and red feathers on her head. She also has rainbow-colored feathers covering her metal wings. She wears red armor with yellow rims and has a blue stone on her chest. She has a yellow Mohawk and red and blue feathers around her eyes. (Read more...
Master Hand (featured Sept 2008)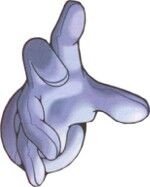 Master Hand is a boss character in Kirby series. He and his counterpart Crazy Hand have appeared in Super Smash Bros. series too. Master Hand sometimes appears as a mini-boss without Crazy Hand. Eating him (as a mini-boss) gives Kirby the Smash copy ability, based on Kirby's moveset in Super Smash Bros. series. Master Hand is a levitating, animated hand. He can fly through air and perform many punches, slaps and some special attacks, like shooting bullets, laser beams and sweeping through stage. He can also make combined attacks with Crazy Hand. Master Hand's many attacks are based on the attacks of Wham Bam Rock from Kirby Super Star. Read more...
Dark Meta Knight (featured Sept 2008)
So far only appearing in a single game, Dark Meta Knight was created by the power of the Mirror World. When Meta Knight found that the Mirror World was in danger, the mirror created a copy of his dark side, and Dark Meta Knight came to be. His form is identical to Meta Knight's, but his color and mind are different. His skin is dark gray, and his feet are red. His cape is black and in tatters, and the armor over his shoulders is gray as well. His sword is gray metal with three razor-like jagged parts on each side. His eyes are the same yellow as Meta Knight, but are smaller and slanted. Dark Meta Knight seems to lack the sense of honor and chivalry that characterize Meta Knight. Read more...
King Dedede (featured Aug 2008)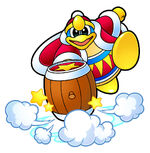 King Dedede, also spelled King De De De or King DeDeDe is a major recurring antagonist (and anti-hero) to Kirby in Nintendo and HAL Labs' long-running Kirby video game series, appearing in every game except Kirby and the Amazing Mirror. His name is commonly pronounced "Dee Dee Dee", with long E's (it is pronounced this way in the English anime dub and Super Smash Bros. Brawl). It can also be pronounced like DehDehDeh, as in deck (it is pronounced this way in the original Japanese anime and the Japanese version of Super Smash Bros. Brawl). Read more...
Meta Knight (featured Aug 2008)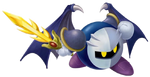 Meta Knight (or Sir Meta Knight) is a major anti-hero in the Kirby Series appearing in most of the games, as well as the anime. He is largely similar to Kirby in appearance, and is one of the few Kirby-like characters in the Kirby series. His intentions are often unknown but what is known is that he is the leader of the Meta-Knights, an army of unique soldiers, and owns a large battleship called the Halberd which often accompanies him into the heat of battle. Though Meta Knight first appeared in Kirby's Adventure (1993) his name was not known in the U.S. until Kirby's Avalanche was released in 1995. Read more...
Kirby (featured April 2008)

Kirby (カービィ, Kābī?) is the main character of Nintendo's Kirby video game series created by Masahiro Sakurai and developed by HAL Laboratory. The Kirby series is one of Nintendo's many well-known game franchises, spanning nearly twenty games since 1992. His first appearance took place in the 1992 video game Kirby's Dream Land. Here he was portrayed by a two-dimensional sprite though he has also been conveyed by a three-dimensional computer-generated image in some games. He has been featured in video games from Nintendo, on Nintendo's merchandising, on comic books, and even a anime series. Read more...
Kirby Wii (featured Mar 2008)
Kirby (Wii) is a upcoming game for the Wii. It was originally announced as a gamecube title in 2005, very little information has been given aside from it's move to the Wii. It is untitled and is referred to as simply Kirby or Kirby Wii. The game features up to four characters playable at once, being the helpers such as Chilly or Bonkers. Only a few abilities are confirmed, with a few being Water (previously only seen in the anime) Bomb and various others. Release dates for any regions have yet to be announced. Read more...