Freeze
Freeze
is a copy ability that only makes defensive use of the ice element, which is also used in
Ice
. When Freeze is activated, Kirby surrounds himself in a blizzard and freezes every enemy including bosses on-screen, and Kirby can only get hurt by already-existing projectiles.
Ice
only freezes individual enemies. It is known as Ice Sprinkler in
Top Ride
mode of
Kirby Air Ride
, and can be used to freeze opponent racers in place.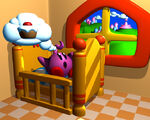 According to ex-
DMA
developer Mike Dailly, the gameplay of the unreleased
Kid Kirby
would have used the Super NES Mouse to click and drag to stretch Kirby out, then launch him to progress in the level, in a manner similar to
Angry Birds
. The game was cancelled by Nintendo due to years of unproductive development - the poor sales of the Super NES Mouse outside of Intelligent Systems'
Mario Paint
also may have had an impact on its cancellation.

What rating (out of ten) would you give Kirby Battle Royale?
What do you think about Kirby Star Allies?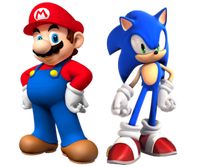 Platformer Games
Go to these sites for info or for help with your own wiki!
A Hat in Time • Azure Striker Gunvolt • Banjo-Kazooie • Bloodstained: Ritual of the Night • Broforce • Castlevania • Cave Story • Code: Hardcore • Conker • Contra • Crash Bandicoot • Croc • Cuphead • Donkey Kong • Drawn to Life • Epic Mickey • Ganbare Goemon • Geometry Dash • Jak and Daxter • Jazz Jackrabbit • Kirby • LittleBigPlanet • Mario • Mega Man • Metal Slug • Metroid • Oddworld • Ratchet & Clank • Rayman • Shantae (and WayForward games) • Shovel Knight • Sonic • Spyro the Dragon • Strider • Yooka-Laylee
Want your community included? See how!
See all of our Platformer gaming wikis!