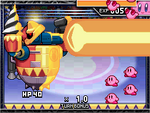 After first appearing in a trailer for the cancelled
Kirby GCN
,
HR-D3
made its official debut in
Kirby Mass Attack
. Its attacks and color scheme are virtually identical to those seen in the trailer, meaning the robot was likely included as a reference to the cancelled
Kirby
game. Despite this intentional reference, however, its laser is inaccurate; the laser HR-D3 fired in the
Kirby GCN
trailer was blue while the laser it fires in
Kirby Mass Attack
is orange.

What rating (out of ten) would you give Kirby Battle Royale?
What do you think about Kirby Star Allies?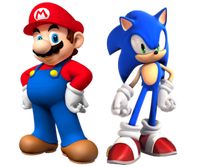 Platformer Games
Go to these sites for info or for help with your own wiki!
A Hat in Time • Azure Striker Gunvolt • Banjo-Kazooie • Bloodstained: Ritual of the Night • Broforce • Castlevania • Cave Story • Code: Hardcore • Conker • Contra • Crash Bandicoot • Croc • Cuphead • Donkey Kong • Drawn to Life • Epic Mickey • Ganbare Goemon • Geometry Dash • Jak and Daxter • Jazz Jackrabbit • Kirby • LittleBigPlanet • Mario • Mega Man • Metal Slug • Metroid • Oddworld • Ratchet & Clank • Rayman • Shantae (and WayForward games) • Shovel Knight • Sonic • Spyro the Dragon • Strider • Yooka-Laylee
Want your community included? See how!
See all of our Platformer gaming wikis!