Ice
Similar to
Freeze
,
Ice
lets Kirby breathe frigid air to freeze individual enemies into ice blocks, which explode shortly or can be kicked and used as projectiles against the others. Similar to
Fire
, it is introduced as early as
Kirby's Adventure
, with similar basic mechanics and offensive potential. Ice Kirby wears a crystalline crown with an orange or blue jewel and gold mounting, and sometimes turns Kirby a bluish hue.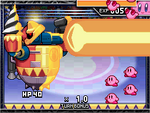 After first appearing in a trailer for the cancelled
Kirby GCN
,
HR-D3
made its official debut in
Kirby Mass Attack
. Its attacks and color scheme are virtually identical to those seen in the trailer, meaning the robot was likely included as a reference to the cancelled
Kirby
game. Despite this intentional reference, however, its laser is inaccurate; the laser HR-D3 fired in the
Kirby GCN
trailer was blue while the laser it fires in
Kirby Mass Attack
is orange.