Kirby Smashifyer is a web game in the Kirby series. It was developed and published by Nintendo in 2011 as a promotion for Kirby Mass Attack. The game currently remains on the Kirby Mass Attack microsite on Nintendo of America's website.[1]
Gameplay
Kirby Smashifyer is a photograph editor. The player must upload a photo and place it in the frame—it can be moved about and rotated. Various Kirby Mass Attack stamps can then be applied to it. These can be rotated and resized to the player's liking, though images cannot be moved past the picture's frame. The image categories include:
| Category | Stamps |
| --- | --- |
| Kirbys | Kirby looking shocked, Kirby dodging angrily, Kirby walking forward, Kirby jumping, Kirby jumping happily, Kirby running angrily, Kirby smiling, Kirby frowning sadly, Kirby jumping and smiling, Kirby jumping angrily, Two Kirbys running, Kirby winking, Two Kirbys holding hands |
| Attacks | Apple, large burst, double stars, lightning bolt, small burst, yellow splat, purple splat, green splat, blue splat, black splat, banana, blast of steam, banana, melon, heroic heart, Waddle Dee, Blish, Blucko, Waddle Dee (bomb), Hamsturr, Decofloof, Big Stickle, Big Beanbon, Skully, Fuu fuu, Gobchomplin, Gordo, Ice Das, Moggy, Moley, Mossy, Waddle Dee (explosive coconut), Beanbon, Beanbons, Soarar, Spideroo, Stickle, Oohroo, Snoozroot |
Buttons below the stamps and photo serve to ease the player's creation. The ? circle brings up a short instruction on how the game works. Like and Share allow the user to like and share the game on Facebook, respectively. Clear Screen erases all stamps while Start Over deletes stamps and the photo.
When the player is content with his/her creation, the remaining two buttons come into play. Print allows the player to print the "Smashifyed" picture. Save lets him/her download it.
Related Quotes
"
To start Smashifying, upload a photo of your choice. Adjust the positioning until you're ready.
Click next to begin!

Use the Kirby or Attack palettes to apply stamps to your image. Use your mouse to position the stamps and use the keyboard's delete key to remove any stamps from the image.

Rotate, and scale the images with your mouse and click to drag them to new locations.
When you're done you can either save, print, clear the screen or start over to Smashify again!

"

— 

Instructions

 • 

Nintendo of America
Trivia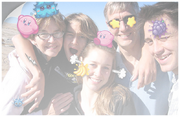 Before uploading a photo, an example photo appears to highlight the game's assets. This image depicts five adults standing in what appears to be a desert.

Displayed in this image is artwork of a bunch of grapes splatting on one man's forehead. It is official artwork of a fruit that was cut from Kirby Mass Attack. Similarly, the grapes are inaccessible in Kirby Smashifyer, with two identical bananas instead taking up Attack slots.

As Kirby's Epic Patchifyer lacks any credits list, the name(s) of the developer(s) is unknown.
Kirby Smashifyer's exact release date is unknown. Its earliest mention online took place on September 6, 2011.[2]
Placing a transparent photo reveals that the background is pink.
The game's file is titled smasher_shell.swf. When downloaded and run, it does not properly load.
Artwork
Logo
Gallery
External links
References
↑ Kirby Mass Attack microsite on Nintendo of America's website. Requires Flash to view desktop version.