'Kirby: Planet Robobot' - Overview Trailer
This article is about an upcoming game
(Edit | (Similar)
Added information should have verifiable sources, as otherwise it may be deleted. After release, the article may require major rewriting. It is recommended to replace this template with the Recent Release template once the game is out.
This article is currently under construction
(Edit | (Similar)
It is not complete by community standards, but you can help by adding information and images.
Kirby: Planet Robobot is an upcoming game in the Kirby series for the Nintendo 3DS. It was released in Japan on April 28th, 2016, and is slated for release in North America on June 10th, 2016.
Confirmed Story
This section is currently under construction
As Kirby naps under a tree, a group of robotic invaders—the Haltmann Works Company[1]—descend from the skies of Dream Land and overrun Planet Popstar with machinery. Both King Dedede and Meta Knight retaliate against the invaders. King Dedede uses his castle's cannons and Meta Knight uses his Halberd, but the enemies' weaponry easily defeats both. Kirby wakes up and seeing the machinery, sets out to stop the invaders.

Spoiler alert: Plot-specific details are within this box
After defeating Clanky Woods in Patched Plains and Holo Defense API in Resolution Roads, Kirby encounters Susie in Overload Ocean, who informs him that the Haltmann Works Company is harvesting resources from Popstar, and it's natives are nothing more than nuisances to her. After a battle, she flees.

Kirby encounters Susie again in Gigavolt Grounds, where she praises their CEO, Max Profitt Haltmann. She then taunts Kirby, and reveals that Meta Knight was captured and mechanized into Mecha Knight, leaving them to battle. Kirby triumphs, but Meta Knight couldn't be saved and is launched into space.

Susie then reveals that multiple clones of King Dedede were made, as well as that the Haltmann Works Company is powering a wish granting machine, in Rhythm Route. The Dedede clones, however, were imperfect and couldn't stop Kirby.

At this point Kirby had defeated all of the areas supplying the company with power, and was able to breach the Access Arc. Mecha Knight puts up another fight, but after his defeat, President Haltmann reveals himself. He expresses disappointment in Susie's performance, and reveals his plans.

Haltmann had been studying the most advanced technologies in the world, and put together a wish granting computer named "Star Dream", and wasn't about to hand it over to Kirby. He fights in his Robobot, laughing like a madman, but as the battle progresses, he is revealed to be nothing more than a broken man desperate to revive his daughter (Who died in the process of creating the computer), and willing to destroy worlds for her.

After Kirby defeats him, he utilizes the power of "Star Dream" to fight back, controlling it with a head set, but Susie betrays him by forcefully taking it off. She tries to take over, but is shot down by the computer, which has gained sentience. It has possessed Haltmann, and speaks through him.

Haltmann speaks for Star Dream, who says that it's been studying the cosmos through the HWC, and that it's found all organic lifeforms to be a nuisance. It says it wants to thrive in a new age, after the destruction of all life forms. It sprouts angel-like wings and launches into space. Susie sees what's happened, finds a nearby Robobot Armor, and decides that Kirby would be the best suited to use it considering how far he's come. She pleads for Kirby to stop the machine.

In all the commotion, Meta Knight had escaped to Pop Star below, and retrieved the Halberd. From atop it, Meta Knight beckons for Kirby, who promptly uses the Armor to fuse with the Halberd. Kirby chases after Star Dream in the Halberd Mode Robobot Armor.

After a long battle, with the Halberd being shot down and Meta Knight ejecting Kirby and the Robobot Armor to finish the fight, Kirby loses consciousness. The Robobot Armor then proceeds to reach in and remove Kirby, sending him back to Popstar, but the Robobot Armor floats into space, shedding tears at the loss of Kirby. After all of the mechanization of Popstar is being undone, Kirby wakes up and is smiling at the sight of Popstar fully restored.
End of spoilers
Confirmed Major Characters
Confirmed Playable Characters
27 Copy Abilities appear in Kirby: Planet Robobot, with three of the abilities being new. Many of the returning abilities retain their designs and movesets from Kirby's Return to Dream Land and/or Kirby: Triple Deluxe, while the returning Jet, Mirror, and Smash (now called Smash Bros.) abilities make their first appearance in a traditional Kirby game since Kirby Super Star (and its remake) and Kirby & The Amazing Mirror, respectively. The UFO ability also returns, making its first appearance in a 2.5D main-series installment as well. It can only be obtained using the Kirby amiibo from the new Kirby series of amiibo, while the Smash Bros. can only be obtained using the Kirby amiibo from the Super Smash Bros. line. The Robobot Armor can also obtain up to 13 Copy Abilities, known as Modes.
Kirby's Copy Abilities
Robobot Armor Modes
Confirmed Regular Enemies
Parasol Waddle Dee (some wearing hard hats)
Waddle Dee (some wearing hard hats)
Waddle Dee driving a small mech
Waddle Dee driving three types of automobiles
Mechanically-modified Scarfy
Mechanically-modified Bronto Burt
Mechanically-modified Cappy
Mechanically-modified Parasol Waddle Dee
Mechanically-modified Waddle Dee
Mechanical enemy wielding a club
Small medical robot with gloves that yields the Doctor ability
Toxic frog slug that yields the Poison ability
Fast pink robot
Giant octopus wearing a diving helmet
Psychic enemy that yields the ESP ability
Large missile with an evil face
Large, menacing enemy resembling Propeller
Big Chip

Spoiler alert: The following section contains plot-specific details.
(Skip Section)
Holo Defense API
Susie
Mecha Knight [3]
Dedede Clones[3]
Mecha Knight Mk II
President Max Profitt Haltmann
Star Dream and Access Arc
Stock Mecha Knight (Meta Knightmare Returns)
Core Kabula (Meta Knightmare Returns)
Dark Matter Clone (Meta Knightmare Returns)
Sectonia Clone (Meta Knightmare Returns)
Galacta Knight (Meta Knightmare Returns)
Landia (Team Kirby Clash)
Whispy Woods (Team Kirby Clash)
Pyribbit (Team Kirby Clash)
Star Dream Soul OS (True Arena)
Star Dream Soul OS Core (True Arena)
Confirmed Items and Objects
Fuel Canister
Power Tablets (Team Kirby Clash)
Sticker
Rainbow-colored collectible items
Item resembling a Game Boy
Confirmed Modes
Kirby: Planet Robobot is confirmed to have a story mode, Team Kirby Clash, Meta Knightmare Returns, Kirby 3D Rumble, The Arena and The True Arena.[4][5]
Levels

Spoiler alert: The following section contains plot-specific details.
(Skip Section)
Patched Plains
Resolution Road
Overload Ocean
Gigabyte Grounds
Rhythm Route
Access Arc
Mind in the Program
Confirmed amiibo Compatibility
Players can scan amiibo to instantly obtain Copy Abilities, whether random or character-specific, depending on the amiibo used (for example, the Mario amiibo will give Kirby the Fire ability). Also, there will be a line of Kirby series amiibo, featuring Kirby, Meta Knight, King Dedede and Waddle Dee. When either of these is scanned, they will either give Kirby the UFO ability, or one of three custom-designed versions of existing abilities.
Trivia
On April 26, 2016, the ROM of the English version of Kirby: Planet Robobot was leaked on Reddit. This is the first instance of a Kirby game leaking online before its release in any region.[6]
The "3D" part of the Kirby 3D Rumble logo appears to be an homage to Kirby: Triple Deluxe's logo.
Kirby 3D Rumble appears to be greatly inspired by Nintendo's second attempt at creating the canceled game Kirby GCN.
Kirby: Planet Robobot is the first the game in the series to come bundled with an amiibo figure.
All the first letters of the worlds together spell the acronym "P-R-O-G-R-A-M," hinting that the final boss is a program of some sort.
One of the pieces of artwork of Kirby greatly resembles his artwork for Super Smash Bros. for Nintendo 3DS and Wii U, which itself is based off his pose from Kirby's Dream Land 3.
This is the first game in the Kirby series to have a Roulette Copy Essence.
Dubior is the only returning mid-boss in the main game to not be modified, as it is already a robot.
Trailers
Trailer

qdFesOvNUMg
300
250px
0
1
0
iframe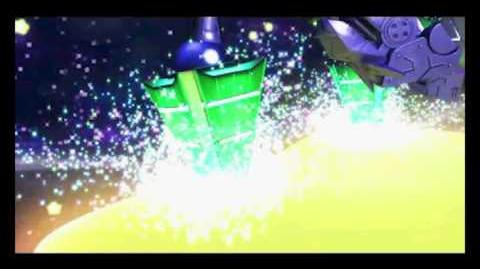 Cutscene

dQP3wHvUW5A
300
250px
0
1
0
iframe
Artwork
Logos
Box Art
Media
Gallery
External links
References
Community content is available under
CC-BY-SA
unless otherwise noted.