Hyper Zone
is a black, cloud-like void that appeared in the skies of
Planet Popstar
during
Kirby's Dream Land 3
. Its mysterious arms spread to the five corners of the planet, scattering its dark influence throughout
Dream Land
. It is the hidden final level where
Kirby
fights
Dark Matter
and
Zero
if he collected all the
Heart Stars
and defeated each previous
boss
.
General Information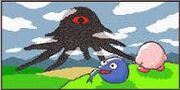 On the outside, Hyper Zone appears as a massive black cloud with a vaguely-defined central sphere shape. It can spit smaller yet longer tentacle-like clouds to expand its reach, which causes ill effects on living things. It reveals an ominous red eye with a black pupil (most likely Zero) in the introductory illustration.
Hyper Zone's inner environment resembles a big, blue oblivion composed of dark oval splotches sailing through it. In comparison, its counterpart Dark Star in Kirby's Dream Land 3's sequel, Kirby 64: The Crystal Shards, appears as a red oblivion with ribbons of Dark Matter-esque energy.
Intro
All the collected Heart Stars coalesce and form the Love-Love Stick. Kirby grabs it and flies into the ominous space above while everyone watches from below.
Copy Abilities
Music
Trivia