The
Eternal Star Halfmoon
is the furthest star in
Kirby Super Star
's
Milky Way Wishes
sub-game
, being covered in eternal night. Milky Way Wishes is a non-linear game, so the stage can be played at any time - however, it is the last "official" star of Milky Way Wishes.
Halfmoon has two parts: One half having strong winds and chaos, and the other half being covered in stars.
The chaos is the first half of the star. Those floors have high winds and fierce enemies that are either powerful or can fly. The other half is made of space-like objects, such as stars and comets. In the first room of this part, Kirby must ride a Mine Cart to destroy the stakes.
Due to the way copying abilities works in Milky Way Wishes, abilities can only be obtained from enemies using the Copy ability provided by the Copy Copy Essence Deluxe (though there are a few exceptions). Some Copy Abilities can only be found via Copy Essence if Kirby attempts to battle Computer Virus without a Copy Ability.
Trivia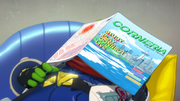 Gallery
Models