"
In the wild nature of Grass Land, master the basic operations of the game while taking in the scenery."
— Instruction manual description • Kirby's Dream Land 3
Grass Land is the first level in Kirby's Dream Land 2 and 3. It is mostly flat, but has some hills and platforms.
Intro
Parasol Kirby walks over to Rick, who is standing in a grassy field. Kirby hops onto Rick's back, and Rick balances Kirby on top of the parasol that is atop his nose.
This Rainbow Drop must be obtained in Stage 3. Use Parasol with Rick to destroy the Elemental Blocks. If Kirby doesn't have Parasol, it is available in the following room. This Rainbow Drop can be obtained without Rick, but it is slightly more difficult to perform.
Copy Abilities
The boss of the level is Whispy Woods.
Rick and Nago are the first animal friends to appear in this level.
Intro
This scene plays similarly to the one in Kirby's Dream Land 2, but before Kirby can jump onto the back of his hamster buddy, his blob friend ChuChu jumps onto Kirby's back instead. Rick watches dejectedly as Kirby and ChuChu spin away in their parasol.
Missions
Grass Land is the first level in the game. The characters that appear in the level are:
Copy Abilities
Related Quotes
"
Grass Land is an open field. Team up with Rick as you proceed and watch out for Whispy Woods."
— Instruction manual description • Kirby's Dream Land 2
"
Each stage has numbered doors, behind which lie various landscapes to explore. The Antagonist's room is last, marked by a skull. Grass Land is fairly easy, letting you practice your inhale and spit—er, shooting technique."
— Description • Nintendo Power (Volume #72)
Music
Trivia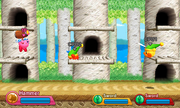 Gallery