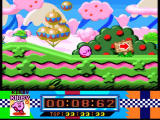 Gourmet Race is a mini-game in Kirby Super Star and Kirby Super Star Ultra. It is similar to most other Kirby games, however, there are no enemies to fight. The goal is to play as Kirby, go through three courses, eat more food than Dedede, and finish first. There is also a time trial mode, where players race their own records (the previous time is represented as a ghost that takes the same path as the player did). In the last course, Kirby can use a copy ability from an ability pedestal. Wing or Jet is often chosen, since they offer speedy flight. One can also choose to do a time trial run of one of the 3 courses. The five ability pedestals are, from left to right, Jet, Parasol, Ninja, Wing, and finally, Wheel.
Gourmet Race returned in the remake of Super Star, along with all the sub-games that were originally featured. This time, Gourmet Race can be played with two players- the second player will be Yellow Kirby.
The mini-game is popular for its music, which has spawned several remixed themes in the Smash Bros. Series.
A "sequel" to Gourmet Race, Cart Run, appeared in Kirby Canvas Curse. Cart Run is the same as Gourmet Race, except Kirby and King Dedede are on carts, and Kirby is moved by moving the generator.
By winning a race, Kirby gets a bonus of 30 additional points, giving a possible 90 if the player wins all of the races.
Levels
Trivia
In this game, Kirby runs faster than usual while his floating and sliding capabilities have dropped severely, giving him a small handicap against his enemy.