Fine Fields
is the first floating island of
Floralia
and serves as the first level in 
Kirby: Triple Deluxe
.
General Information
Fine Fields is a grassland covered with flowers, though caves and thick forests can be found here as well. Boulders and falling evergreens serve as hazards, making Kirby's adventure here more than a walk in the park. This is where the pink puff's journey to free King Dedede from Taranza begins. Kirby needs five Sun Stones to open the boss stage.
The game's first HAL Room can be found in Stage 3 of Fine Fields. In the second room, Kirby must touch the right side of the screen in the background, then return to his starting point to the left. A 3D Warp Star will have appeared in the foreground, and the hero can use it to travel into the background. From there, he can head left to find the room. 
Stage 1
Inhale the tree with Hypernova. A Sun Stone will appear shortly afterward.
Pull the Slide Blocks with Hypernova. The first one will crush some Durable Blocks and the second one can be moved close to the Sun Stone. Get on top of the second Slide Block and inhale the Slide Block containing the Sun Stone. It will shatter upon hitting the ground, releasing the Sun Stone.
Stage 2
Destroy one of the Terrain Blocks in the background to gain access to a Treasure Chest.
In the Cannon room, use the left branching path.
Stage 3
Use the triple 3D Tilt Missile to destroy the Durable Blocks in the background. The lowest one needs to be destroyed to get the Sun Stone.
In the room with the boulders, enter the optional door. Light the fuse and move the block to keep the spark going until it reaches the Cannon
Inhale the fourth Pipe Worm to access optional room. Inhale both Slide Blocks in order to pull back wrecking ball. Pull back wrecking ball all the way to obliterate the wall. Below is a Treasure Chest.
Move the Slide Block to the center of the room to pull away the curtain. The Sun Stone is in the background.
Stage 4
In the second room, use Beetle to cut grass to find a Key. Use it on the locked door in the background.
In the area with the Invincible Candy, destroy the Bomb Block blocking access to a 3D Warp Star.
Use the Tilt Gondola to bring the Key to the locked door.
Stage 5
Defeat Flowery Woods.
Stage 6
In Treasure Chest after defeating Blocky DX.
| Stage | Rare keychain | Image | Guide |
| --- | --- | --- | --- |
| Stage 1 | Star Rod | | Pull the wrecking ball all the way back. It will obliterate the wall ahead, allowing access to the rare keychain. |
| Stage 2 | Dyna Blade | | Just before the end door, fly up. |
| Stage 3 | Triple Star | | In the second room, use Cutter to cut the Grass, releasing a 3D Warp Star and revealing a Bomb Block in the background. Go into the background and destroy the Bomb Block. |
| Stage 4 | Dark Matter | | After riding the 3D Warp Star after passing the Grizzo, go to the right. |
| Stage 6 | Magical Paintbrush | | When the Lumberjack Waddle Dee cuts down a tree that destroys some Durable Blocks, ride the 3D Warp Star that was left behind. Cut down the tree to destroy some Durable Blocks in the foreground. |
Music
Kirby: Triple Deluxe: Fine Fields
Trivia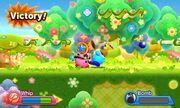 Gallery