Fatty Whale is a boss in Kirby Super Star, and is fought early in Sub-Tree Area in The Great Cave Offensive. He is a titanic whale wearing sailors clothing and smokes a pipe. Fatty Whale's main attacks include shooting water out of his blowhole and body slamming. Unlike most water bosses, Kirby must actually stay on land while the large whale attacks from the water.
In addition to being fought in The Great Cave Offensive, Fatty Whale also serves as the boss of Aquarius (however, in the remake, this version is red rather than blue) in Milky Way Wishes. This red version of Fatty Whale is also fought as the sixth boss the Helper must face in Helper to Hero. Most of all-time is the second attack always the same.
Games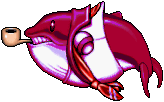 Fatty Whale appears as a boss in The Great Cave Offensive, and is fought as the first boss. In the battle, Kirby stays on a very long bridge overlooking an underground lake. Fatty Whale appears, and stays in the background while attacking Kirby. Despite being so far from him, Kirby is actually able to land hits on the whale. He attacks by rolling around and into Kirby, and by body slamming his way across the bridge. Whenever he shoots up water from his blowhole, rocks (as well as Blippers) fall from the ceiling onto the bridge. He can also create a huge tidal wave that sweeps forward across the bridge throwing Kirby and his helper into the air to fall back to the ground (although this does no damage), followed by a multitude of rocks that fall down from the ceiling. After he is defeated, Fatty Whale spirals into the background, falls into the lake, and Kirby is then able to progress. Upon being defeated in Kirby Super Star Ultra, Fatty Whale is covered in bandages, his clothes become tattered, and his eyes look like stars while shedding a tear.
Trivia
Fatty Whale is composed of only 3 sprites (8 in the remake), all of which are part of the background. The sprites are rotated and/or stretched during attacks.
Fatty Whale is considerably faster in the original Super Star than in the remake. This is especially evident in his rolling attack.
The battles against Fatty Whale are the only instances where tobacco is referenced.
In Kirby's Return to Dream Land, there is a boss called Fatty Puffer. There may be some relation between the two, but it's currently unknown.