Cart Run is a subgame in Kirby: Canvas Curse and the "sequel" to Gourmet Race.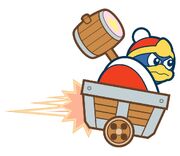 Like before, you're racing against King Dedede to collect the most amount of food, although this time it's a little different. First off, you move Kirby by moving the generator (the blue thing) either up or down to steer yourself. The generator is invincible, and it is your only way to protect yourself. The "food" that you gather isn't even real food, but signs with food on them. Whenever you collect these "delicacies", you speed up. If you get damaged, you lose your speed. Also, King Dedede moves on a set path and doesn't collect food.
Ranks
How fast you did the subgame and how much food you collected will determine your rank.
AAA: Rainbow Hero
AA: Warp Speed
A: Light Speed
B: Speed of Sound
C: Bullet Train
D: Super Express
E: Express Train
F: Commuter Train
G: Locomotive
H: Walker
I: Toddler
J: Crawler
Community content is available under
CC-BY-SA
unless otherwise noted.