Not to be confused with ? ? ?, an alias of Dark Meta Knight.
??? (originally ?) is a secret planet in Milky Way Wishes, a sub-game in Kirby Super Star and its remake. Because this planet has no Dream Spring, it is not mandatory to visit. However, it must be visited to fully complete the game with 100%.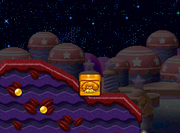 General Information
??? is a small, unnamed star-shaped planet hidden in-between Skyhigh and Cavius, and is not big enough to be seen from Pop Star. The only inhabitants of the star are TACs and Bombers. It has a large jungle filled with exotic plants. The level is very short, and Kirby only has to navigate through three short rooms. The final room of the level is the star's exit. The room contains no floor, so Kirby must be careful. The final room only contains the Copy Essence Deluxe for Copy, and a Warp Star to go back into space. Visiting ??? before any other planet is advisable, since a player can copy an ability he/she doesn't have the Deluxe for.
In Kirby Super Star, the second room was unique in the fact that it had a single shade of blue as its background and a single shade of black as its foreground. This was changed in Kirby Super Star Ultra, however, with a theme similar to that of Green Greens (seen in the picture to the left).
Trivia
The name of the planet that Kirby battles Marx on is called "???", and even has a background remotely similar to the first room of this planet. This could be a coincidence.