Haha yes i know this is the Kirby wiki but i just really wanted to draw characters i like and show them to yall :D
Anyway here. take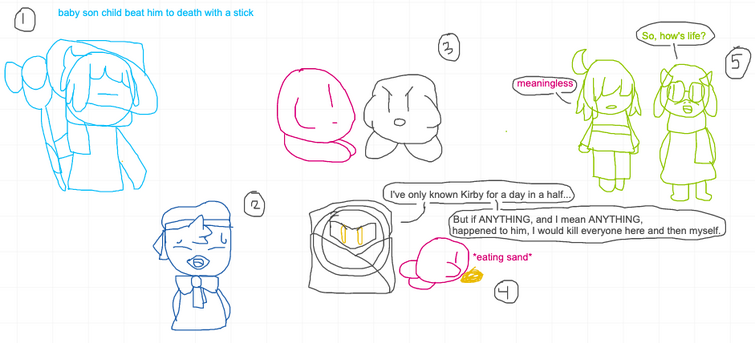 Baby son child beat him to death with a stick
So, one of my new favorite Cookie Run characters is Wizard Cookie! He's really cute and trying his best... hnnngh I just really like him a lot
2. Donald Duck doodle because I love him + I need to learn how to draw anthropomorphic birds
3. Kirby and Shadirby are talking. What are they discussing?
4. Meta: "I've only known Kirby for a day in a half... But if ANYTHING, and I mean ANYTHING, happened to him, I would kill everyone here and then myself."
Kirby: *eating sand*
Mety being a good (protective) dad. You might want to stop Kirby from eating sand though-
5. Ralsei: "So, how's life-"
Kris: " m e a n i n g l e s s "
I've been playing Deltarune recently and I just frikin love Ralsei... He's great and I love him... Berdly is my favorite though. I just need to practice drawing anthro birds so that I can torture i mean bless you all with Gamer Bird™
And that's it! I hope you enjoyed my mini art dump :D