This started as me trying to nail the designs on the Mage-Sisters and then just became… this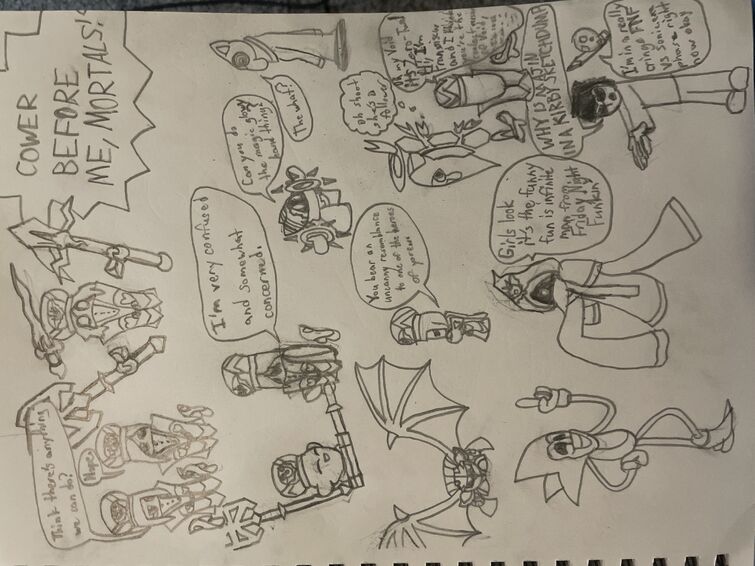 (it's sideways TwT)
Anyway- from the top down! (Or left to right ig since it's sideways)
Yeah, this one speaks for itself. Flamberge would totally be the one to do that out of the three of them.
I don't even know why I drew the second one but Kirby looks so cute with Fransisca's hat + axe. Who knows where he got them though. Considering Fransisca herself also has them.
A headcanon of mine: Magolor is related to the Ancients. After discovering Hyness, an actual Ancient, he's likely curious as to if they possess any of the same abilities. Although I think Magolor got that particular one from the Master Crown…
Galacta Knight doesn't look like Meta Knight, Meta Knight looks like Galacta Knight. Just like Batman doesn't live in Bruce Wayne's basement, Bruce Wayne lives in Batman's attic. I figured Zan would probably be the first one to notice.
I just wanted to draw Zero-Two again but this was a strictly Jamba-themed page so now we have Fransisca being a Frangirl.
Fun is infinite fun is infinite fun is infinite fun is infinite fun is infinite fun is infinite fun is infinite fun is in- yes I'm cringe I know :\ you don't need to tell me
Also, in the corner over there are two of my OCs! I don't use them much on this wiki but here they are. On the left is Ebony. You won't see him very often, I only pull him out of my bucket of TPE (The Particle Experiment) characters when I need an OC for Yoshi to converse with. On the right is Jedi Yoshi (Yoshi for short). He used to look like a Jedi Yoshi, now… well, lore happened, and now he's just a soul. He's my main OC though, the one you'll see me roleplay as.