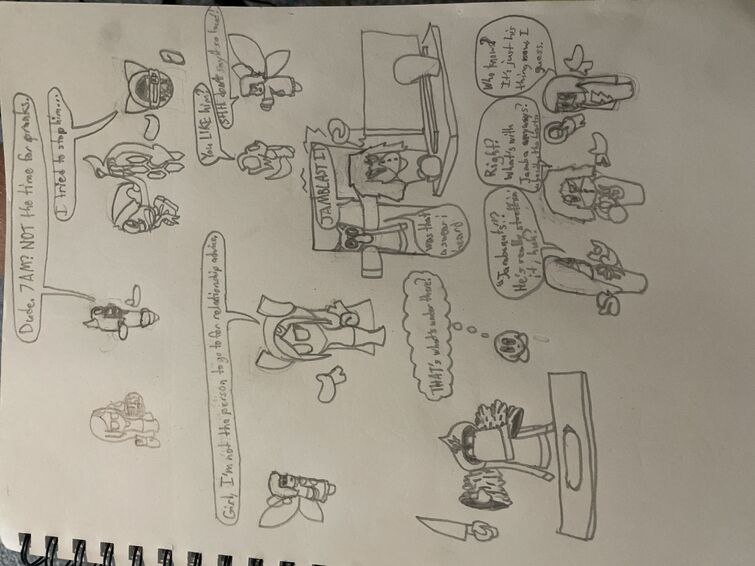 I love me some Kirby art, even the sideways kind.
So, top to bottom (or left to right):
Marx being a jerk, lol. What did he do? You'll never know. I've been experimenting with drawing the characters with more casual clothes, I kinda like it, idk why. Susie's coffee mug reads "#1 CEO" and Magolor's shirt here reads "MAC & CHEESE" because haha funni.
I ship Ribbon x Kirby and nobody can stop me, so next we have Ribbon talking to Susie and Elfilin about it. I'm not a girl, nor do I have any sort of understanding about how girls interact with each other, so if the dialogue there seems a bit cheesy that's why.
I headcanon "Jamblast" as a swear word, and I headcanon Hyness as anti-swear (think "this is a Christian household"), so naturally, this happens whenever Flamberge tries to get past Grim Matchstick in Cuphead.
This one's a little weird, so let me explain: I headcanon that Hyness has disembodied floating hands akin to Magolor's under his ridiculously long sleeves. This stems from the implication that Hyness and Magolor are related in some way. Does that mean Mags has the floppy nose? Maybe, though I don't picture it that way.
And jambonuts. I think that one speaks for itself. I just wanted to give the Mage-Sisters the casual clothing treatment.