1. No it won't be the same as normal Meta Knight's smash moveset (mostly).
2. This moveset is mostly moves from his Star Allies moveset and maybe an original move.
3: I call Dark Meta Knight's sword the "Dark Galaxia".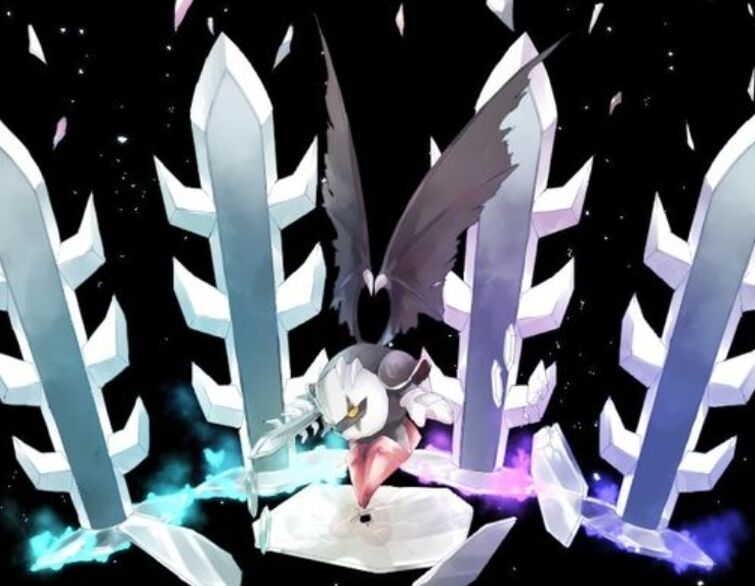 Movement Options:
Speed: Same as Meta Knight
Weight: Same as Meta Knight
Jumps: Same as Meta Knight
No Wall Jump
No Wall Cling
No Crawl
Normal Attacks
Jab 1: Dark Meta Knight does the first slash of "Overhead Slash"
Jab 2: He does the second slash of "Overhead Slash".
Jab 3: You guessed it... He does the third and final slash of "Overhead Slash".
Rapid Jab: Its just the rapid slash part of "Overhead Slash".
Finisher: He opens a medium sized mirror portal and shoots a Dark Galaxia blade out at a 45° angle.
Side Tilt: He opens a small mirror portal in front of him and a Dark Galaxia blade shoots out.
Up Tilt: He uses his Wall of Mirrors move from Star Allies.
Down Tilt: He use his Dark Mirror move from Star Allies. He splits himself in two moves in opposite directions then come back together.
Dash Attack: Is the same as Meta Knights dash attack but he also does a sword slash.
Forward Smash: He does his "Edge Smash" move from Star Allies.
Up Smash: He uses his "Blade Burst" move but he uses two large mirror portals instead of four.
Down Smash: The same as Meta Knight's.
Aerials
Neutal Air: He does Dark Mirror Ring.
Forward Air: He does Dark Crosscut. It works the exact same a Meta Knight's forward air.
Back Air: He does Triple Thrust. It's the move he does after Dark Crosscut in Star Allies but he does it backwards. This is his hardest hitting aerial.
Up Air: Same as Meta Knight's.
Down Air: He does Meteor Edge. It spikes as the Blade comes out of the mirror portal but it does linger in the air until Dark Meta Knight touches the ground.
Special Attacks
Neutral Special: Dark Meta Knight uses his "Reflector Shield" its the nearly the exact same as Zelda's neutral special except that it's not a multi-hit. He only hits once the move is over and it's just a strong slash with his sword.
Side Special: He does Dark Drill Rush. It functions nearly identical as Meta Knights side special but Dark Meta Knight's does a little less damage but has super low end-lag, better for combos, it also can barely be angled. Kinda like Dark Pit's arrows.
Up Special: Dark Meta Knight does Dark Caliber. He does a leaping slash, dragging an opponent up. He then teleports around the opponent slashing three times, with a final slash launching an opponent away and slightly down. In the air he will launch foes more up than down.
Down Special: He does Triple Crescent Shot. The Crescent shots do slightly more damage as he fires them. The move does do a total of 11% damage if all three shots connect.
Final Smash
Shattered Mirror: A cinematic Final Smash. It starts with Dark Meta Knight summoning the Dimension Mirror, if an opponent gets sucked into the mirror world, he starts his attack by doing Dark Caliber, teleporting around the opponent many times. He then opens many mirror portals that stab and skewers the opponent, then he slashes the opponent and sends them back through the Dimension Mirror, trapping them in it before he shatters it.
Well... That's my Dark Meta Knight moveset, if you got any criticism let me know. If you got any ideas for future movesets I can do like Dark Matter, Susie, or maybe even just a common enemy.