UUUUUGH IT'S SIDEWAYS AGAIN
Anyway, top down…
The first one was generated by the thought "what if Void was always watching all his reincarnations to see how they were doing and then just saw Kirby destroying Elfilis?" Special thanks to @Diff Juns for the headcanon that Void and Elfilis are basically frenemies.
And then just a random drawing of Elfilin doing nothing
Then we have Elfilin using his Fecto Elfilis spear, because I like to think that he can do it after the Chaos Elfilis fight. BWD is in awe, Zan is impressed, and Elfilin needs that thing to be lighter.
And to the right there… well, it seems pretty self-explanatory.
Then we got Void and Elfilis interactions. I like to think that Elfilis probably keeps Void's emotions in check (or at least used to) so the resulting Dark Matter doesn't destroy the next planet it finds.
And of course, Void making fun of Elfilis over how he died. Man, those were probably the greatest two minutes of Void's life. (Of course, this drawing doesn't coincide with the first one.)
And then another Morpho drawing, based off of my headcanon that he sort of works for Void (along with the other gods that exist in Kirby), so he reports back to Void, telling him what he did, and… well, you get it.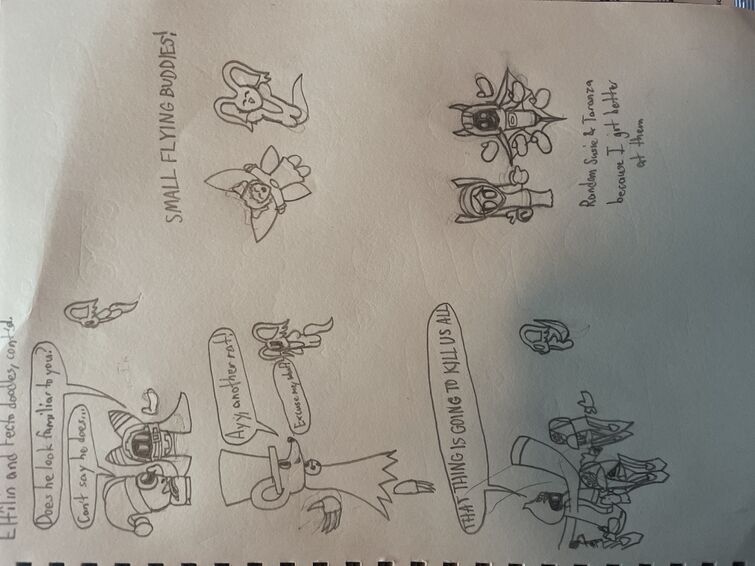 UUGH STILL SIDEWAYS
Anyway, here's some of the Star Allies' most notable reactions to meeting Elfilin. Based off of another post I made a while back (what, like a week? Idk). Also, I've been trying to improve on some characters I'm not too great with… Daroach is one such character. I was able to fit him into the scenario, but Susie and Taranza, not so much. So I just kinda shoved them in there.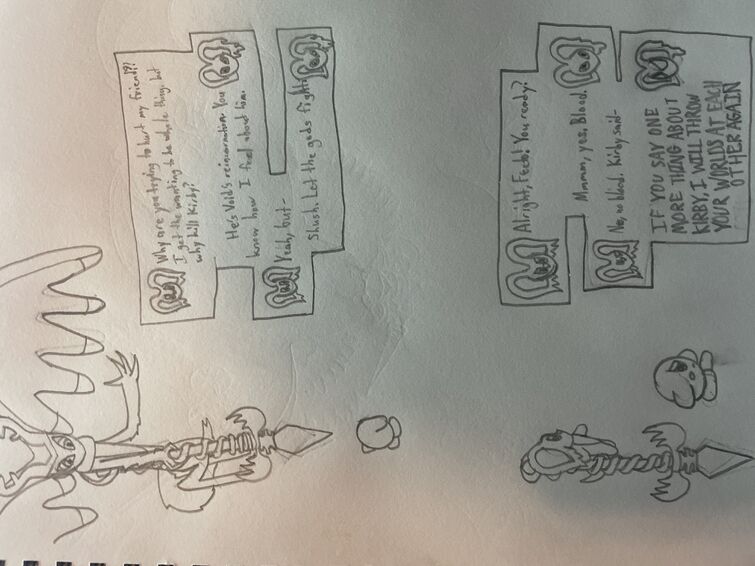 (still sideways…)
And here we are! The last page of the sketchdump!
Didja see what I did there
Anyway, I got a new headcanon recently that Fecto is still in Elfilin's mind, and while he can't take control, he can still talk to Elfilin in his head. Elfilin's will is strong enough to not be swayed by him, but they do talk at certain points. The convo usually ends with Fecto telling Elfilin to shut up, hehe.