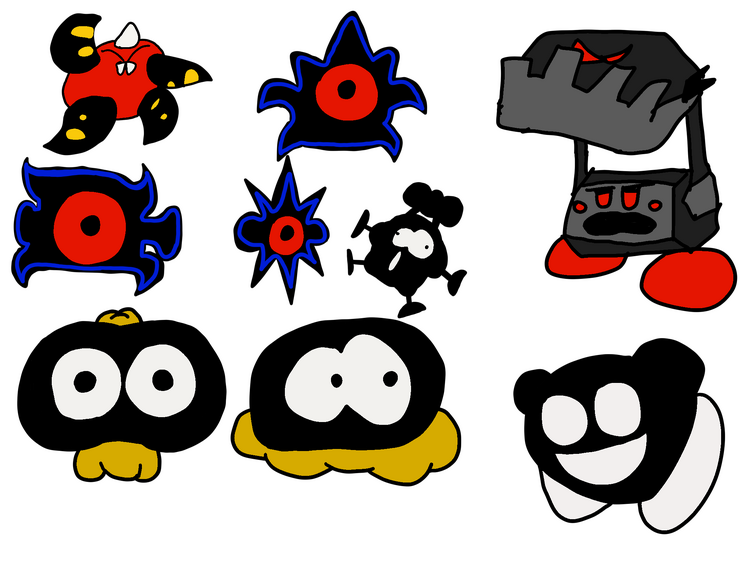 Tench: An underwater creature that will fire electric balls from it's suction cups. It is very common in extremely salty water, and many have been bred by the Ao7 for use as underwater guardians.
Moak: A dark creature found in The Qrextnz, and berserker warriors in the Ao7 , it is closely related to dark matter. These small foes will shamble towards their enemies, and try and skewer them on their spiked head. As a backup tactic, they can also shoot these spines if at an advantageous range.
Shoav: A dark creature found in The Qrextnz, and legionnaire warriors in the Ao7 , it is closely related to dark matter. These small foes will shamble towards their enemies, and try and punch the closest target. They are also capable of protecting themselves with their strong hands. They can shoot plasma shots from their eyes. Are often confused with a creature who has mastered mimicking their appearance.
Dankfiz: Native fish to Corano, which is where The Qrenxtnz is located. These strange fish have never been observed eating, sleeping, or even being that aware of their surroundings. They mimic the appearance of the Dark Matter creatures inhabiting the planet so they may have a better shot at survival.
Sliderian: A jellyfish inhabiting the dark waters of Corano. Like the Dankfiz, they mimic the appearance of the Dark Matter Creatures that live above the surface for survival. They defend themselves by shooting a volatile bubble out of their heads.
Baggae: Hoodlums who wear bags over their heads. They are often seen antagonizing other citizens of Nehnage, they are usually just seen in some small gangs, but many have become raiders for the Ao7. They will pummel and mug any poor sap who they think has enough dough.
Plungerk: Strange hostile creatures who try and cartwheel into foes. They are often found as parts of gangs or lone muggers on the roads of Nehnage.
Skoller: Rock/metal creatures that inhabit the nearby volcanoes and mines. They lay down the Stone/metal skulls they hold and have them spit out fire, radiopec (radioactive icapec shots). The skulls never seem to collapse as they hold them, so hit the creature itself!
Doppelgäng Memb: Inhabitants of The Qrextnz and The Pit of Demise, they mirror the appearance of the biggest threat sensed to their authorities. They seem to lack self preservation in exchange for perfect synchronization with what they have copied.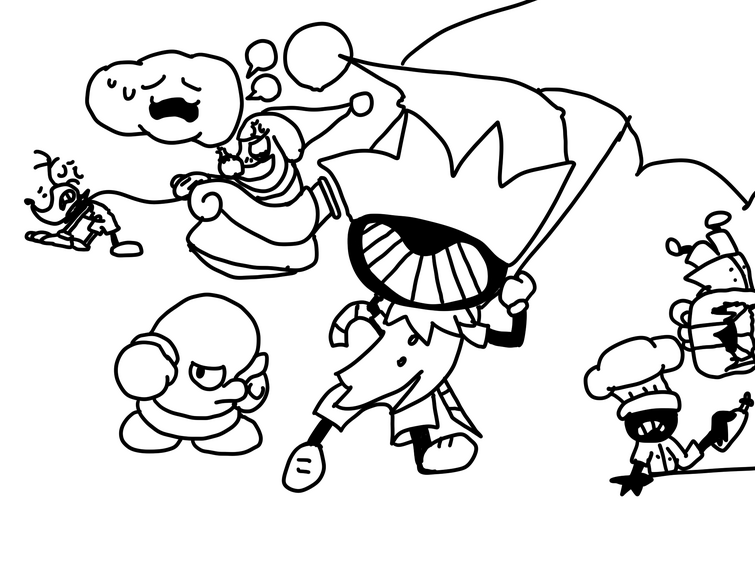 Elfimp: SinterKlaawuse's Minions, these carol dancing devils assault with bombardments of Figgy Pudding, Candy Rifles, and shanking with candy canes.
Pomittour. These gruff creatures wander the tundras, taking any food or coin they find. They can take a lot of hits, and deal back powerful ones.
Ornimbus: These clouds grow ornaments that are their seeds. They are seldom seen, and they only attack with some icicles to defend their seeds. One unlucky one is used as a platform by SinterKlaawuse.
Pressimp: Elfimps that are in the weaponmaking line, they shoot bombs and throw out malicious presents.
Ramerim: Angry chef Elfimps that hit with rolling pins and cook horrible food, all while screaming at the top of their lungs and complaining about missing sauce.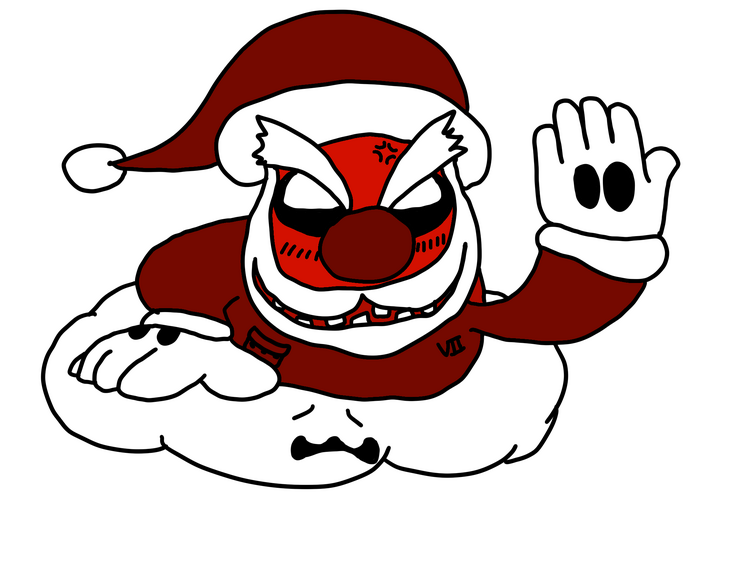 SinterKlaawuse: The evil overlord of the frozen poles of the of planets in the Gamble Galaxy, this old geezer isn't jolly, a saint, or named nick. His face is always red from the rage he feels. It's actually colored bloodlessly white normally.
As the stories from Gratelzburhg say:
"One Crimbo night, evil cloud Sinter had a plight. His temper was not mild; he threw gifts at every man, woman and child. Yes, we speak of such as Hamsters, bananas, lead screws, and lightning itself."
As the local children say:
"Ve go up in zhe snow mit zhe frying pan and try to catch SinterKlaawse's evil gifts from zhe skhai!!! It iz a greaute time for oure kinder in Gratelzburhg!"
Lately, a messenger of T7H and local horror of the Popstar Polar Caps: Grampus has offered SinterKlaawuse a position as a general for their armies, and the sadistic pig that SinterKlaawuse is, he accepted immediately. As if the random assorted junk he throws down wasn't enough, he can call in his sliegh to run over any poor sap he decides to bully, and can summon his Elfimp minions to further mess with them. He also enslaved and forced all 13 Rundeir to drag his heavy sled (and that's just without him inside) instead of going on the local Rundeir Marathon. Take down this fat, greedy, oaf before he crushes all Kringles!