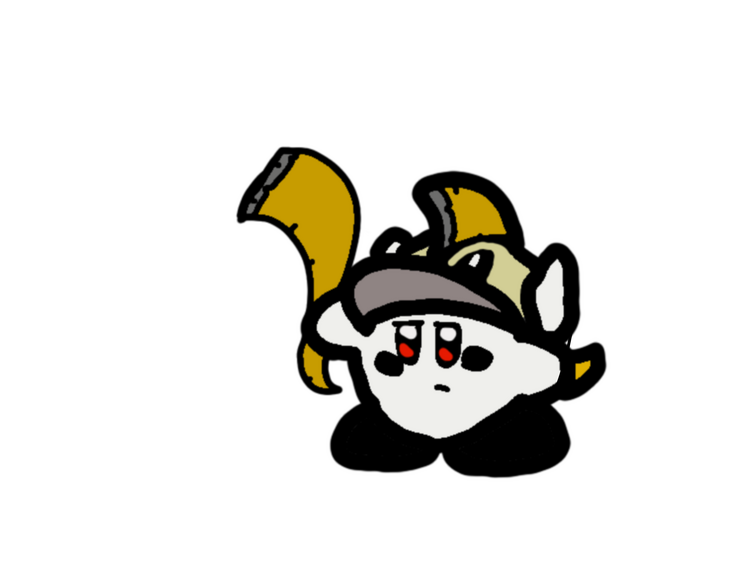 Killby: Experiment: No.1: Envy
Gender: Male
CPA: Cutter
A success, Killby is a sadistic maniac bent on completing any mission he is given by a "superior" (which are only nine other characters). While he was lost off the Pit of Demise, he was found by an underground hitman organization, where they threw him into a cell, however, he theunveiled his killing prowess, where he quickly rose through the ranks and became heralded as the best assassin in the entire organization. He was known for the sheer brutality and diversity of his hits, he is feared as the black-and-white bringer of death. However, after Kirby managed to evade him, he became bent on finishing the pink puff off, always fueled by the fact that he always stole any attention from him.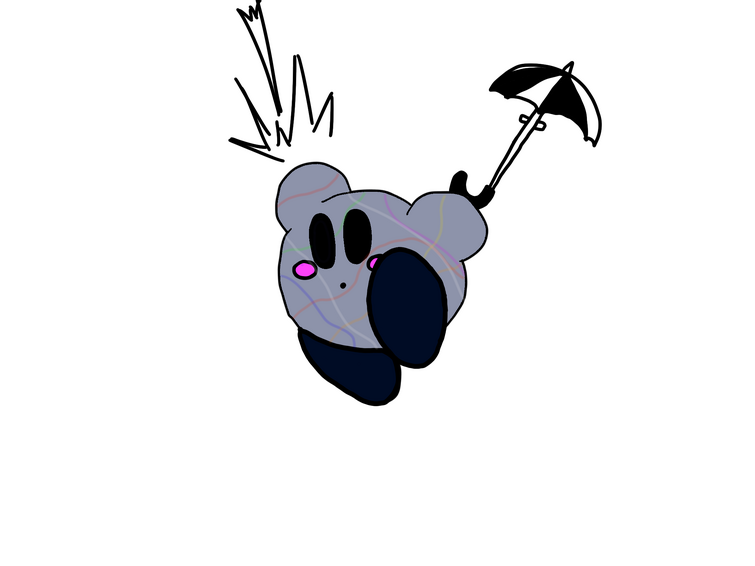 Tirbynaie: Experiment No. 2: Pride.
Gender: ??? (pronouns: he/she/they/it/yes)
CPA: Light, Mike, Crash, Parasol, Laser, Paper, Ninja, Cook, Festival.
Very introverted. Almost never speaks. Can contort his face (in a familiar manner) in strange ways. Seems to enjoy being around Jetstram
Being a Kirby, she enjoys eating, but also is great at cooking. sometimes is seen with piercing yellow eyes. On the rare chance that they do speak, its voice speaks in such a way, that yes'ss gender still is never apparent. Not even they know. They are still pretty friendly to others, but they won't show mercy to anyone that harms Jetstram (except for the Seven Harbingers). He never seems to let down their veil of stoicism, but she knows that if it did, ye''s would just rot away. They were released prematurely, and as such, are very similar to an old foe, though its personality is completely different.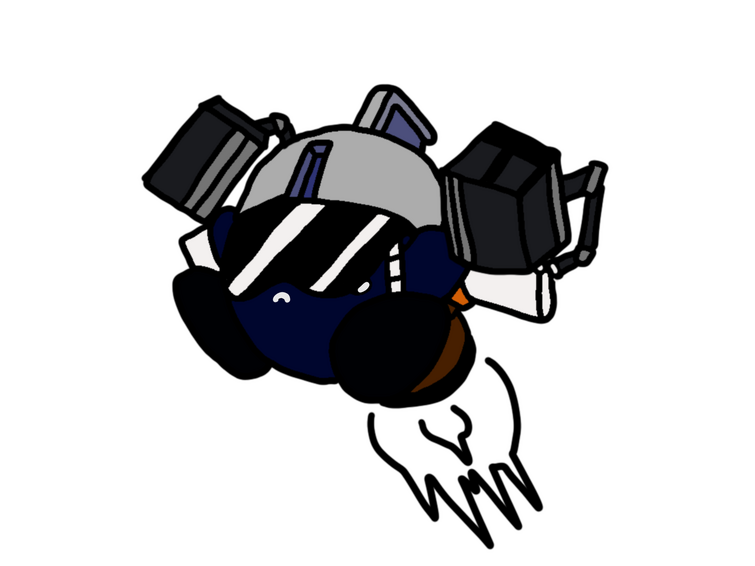 Jetstram: Experiment No.3: Wrath
Gender: Male
CPA: Jet, Bomb
Jetstram tends to try and seem stoic, but he tends to let his short temper get the better of him. He has never taken off his visor. He really doesn't want to feel this angry, but never can help himself. He seems to enjoy being around Tirbynaie, and the feeling seems mutual. He always refers to Tribynaie using female pronouns. He also seems to have a small rivalry with Kinyang, Kaiby, and Kelly (and basically anyone he feels like is challenging any position he has (mostly bombing things) ). He also has relatively low self esteem, but he just never says or does much. Enjoys bombing some things, but not a destructive person (well, he's self destructive). Hates going fast because he gets motion sickness.
Limoura: Experiment No.4: Sloth.
Gender: Female
CPA: Sleep. (ESP?)
She is usually fast asleep, yet somehow attentive, since she seems to see with her VR headset. She is supportive, but very weak. Tends to assimilate hundreds of metal boxes to use as a mass to carry out security protocols. She always seems lethargic, but can be a bit of a chatterbox. She is good pals with Tirbynaie and Jetstram. It seems odd that she is such a sickly shade of green, and what's with the liquid under her headset? She never takes it off... 19 8 5 9 19 1 3 20 21 1 12 12 25 2 1 18 5 12 25 1 12 9 22 5 1 14 4 15 14 12 25 5 22 5 14 1 12 9 22 5 4 21 5 20 15 20 8 5 8 5 1 4 19 5 20 19 8 5 23 5 1 18 19 23 8 9 3 8 8 1 19 8 1 4 8 5 18 3 15 14 19 9 15 21 19 14 5 19 19 21 16 12 15 1 4 5 4 9 14 20 15 9 20 1 14 4 20 8 5 14 1 20 20 1 3 8 5 4 20 15 8 5 18 19 15 19 8 5 3 1 14 19 20 9 12 12 3 15 14 20 18 15 12 8 5 18 14 15 23 4 5 3 1 25 9 14 7 2 15 4 25
Kaiby: Experiment No.4: Gluttony
Gender: Male
CPA: Cook
While made in the Pit of Demise, he accidentally fell out during a breach by an entity that was manifested from enough similar energy to Void, but it seems to also harbor a vendetta to Kirby. When it crashed into the Pit, it only let three inhabitants exit, in the breach, Kaiby being one of them. Kaiby by miracle made it to Popstar, and set up business as a cook. He is a competitive rival to Chef Kawasaki, Kaiby makes widely liked food, but is known to have it be overpriced and engage in really scummy business practices such as but not limited to:
Taking food from customers. Literally just taking some of it and eating it when he passes by.

Not abiding by proper food preparation procedures.

If you do the math on his bills, you can see that he's charging you more than the total of the already ridiculous prices.
As a result, people prefer eating at Kawasaki's. And even some literal hole-in-the-wall on some island.
Kinyange: Experiment No.6: Lust
Gender: Hermaphrodite
CPA: Magic, Ice, Doctor, Animal.
IMPORTANT NOTE: Only lusts for attention from others.
Kinyange is quite literally, an enigma. They are an amalgamation of two personalities, which are different only in their demeanor, one which is hotheaded and bloodthirsty, the other, cold and unfeeling. The two can switch between their dual abilities at will, but both simply desire attention, even if they have incredibly violent tendencies. They are often arguing with themselves, but in the end, they are just fighting with themselves.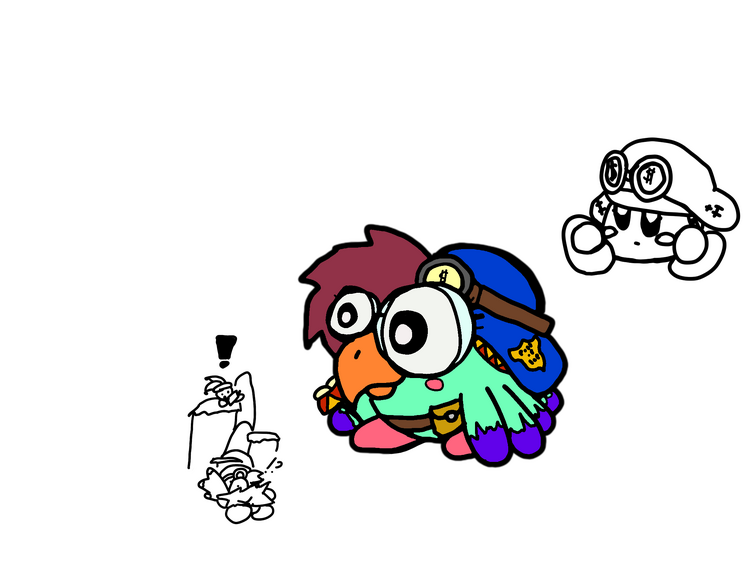 Kelly: Experiment No. 8: Greed
Gender: Female
CPA: Wing
The local mailman for the entirety of the Popstar 9-2 district (most of the North and East), She is known for her extreme proficiency at her job, as well as her overall devotion to delivering all the mail, to the point where she even gets mail for herself. She enjoys her reputation, and is regarded as the best postman in the entire region. She likes shiny objects, but doesn't have kleptomaniacal tendencies. .namtsop a sa detfard neht saw dna ,reh yb desiar retal saw ehS .edalB anyD yb flesreh dnuof ehs ,neht ,erehwemos nekat gnieb saw dna ,pu dehctans neeb ylneddus dah ylleK ,nodriB a woN .)koob eht denrub eh neht dna )deneppah sehsiW yaW ykliM erofeb sruoh 62 saw siht( siht gnidaer nehw yawa werht xraM taht )latrommi eht tceffa tonnac snocimonorceN( nocimonorceN a fo tuo egap a yllautca( egap emos erofeb sruoh 73 eno rof mrof ybriK reh ni deniamer ylno ehs ,ratspoP no dednal ehs nehw tub ,senolc ybriK eht fo eno yllanigiro saw ehs ,hcaerb eht ni tsol esoht fo driht eht saw ehs ,tsap reh fo hcum rebmemer t'nseod ehS
Among Others, Kelly is sometimes known "the Third Loser"